This Book Is An Excellent Gift For Nostalgic Classic Car Enthusiasts, Especially Corvette Lovers!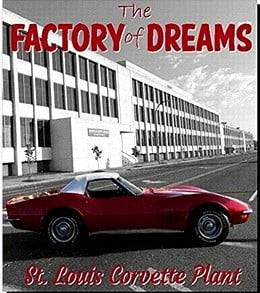 For a number of years, the St. Louis Corvette plant defined a way of life for thousands of St. Louis area workers, including Granite City business owner, Mike Dixon of Dixon Heating & Cooling.
In 1981, the assembly line at the St. Louis Corvette plant halted for good.   "It was a combination of track on the floor, pushed hand carts and what workers called a 'knife-edge' conveyor." ~ Corvette Magazine.   The plant shut its doors and production moved south to Bowling Green, Kentucky, but the memories remain and Mike Dixon decided it was time to share his experience in the story.
"On August 1, 1981, the St. Louis Corvette Assembly came to a final halt, and the last Corvette built there rolled out of the factory. " ~ CorvetteActionCenter.Com
My dad was a lover of classic cars and loved perusing at car shows.  If he were still on this earth, I'd buy him this book as a gift from my heart because I know he'd really enjoy reading it.  If you know someone in a Corvette Club this book will make a great gift for them too.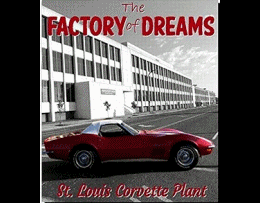 "There Are Really Two Stories Told In The Book.
One is about the car, but the other is a peek into the life of an auto worker in the 1950s and '60s, when the industry was at its peak for its workers.  It shares an engineering triumph, by St. Louis and automotive engineers.  It's about the startup of the plant, but it's also about the history of the cars and the men who built them."  Melissa Meske ~ Advantage News
Dixon Now Has His Hands On Corvettes As An Owner Of Them.
He has five of them and enjoys taking them to Classic Car Shows, including his 1972 red convertible Corvette with its value being sentimental and not just material.   Mike had a part in putting this one together when he worked at the factory.
"I did a VIN search, determining when and where it was built.  From that, I know it is one that I dropped the body on. And it only took me 40 years to own it," Dixon said, laughing."
Did You Know That Channel 9 Actually Had Its Own Corvette?   Watch The Video Below and Listen To How That Deal Was Made.
"The Corvette Emerged As Its Own Statement That A Machine Can Also Be Art."
Published in October 2018, The Factory of Dreams: St. Louis Corvette Plant is a brand new book for Corvette enthusiasts & automobile history lovers, and is now available on Amazon.com   Please post your review & give it a rating after you've read it.  Thank you!   Enjoy!